Previous Accomplishments

2019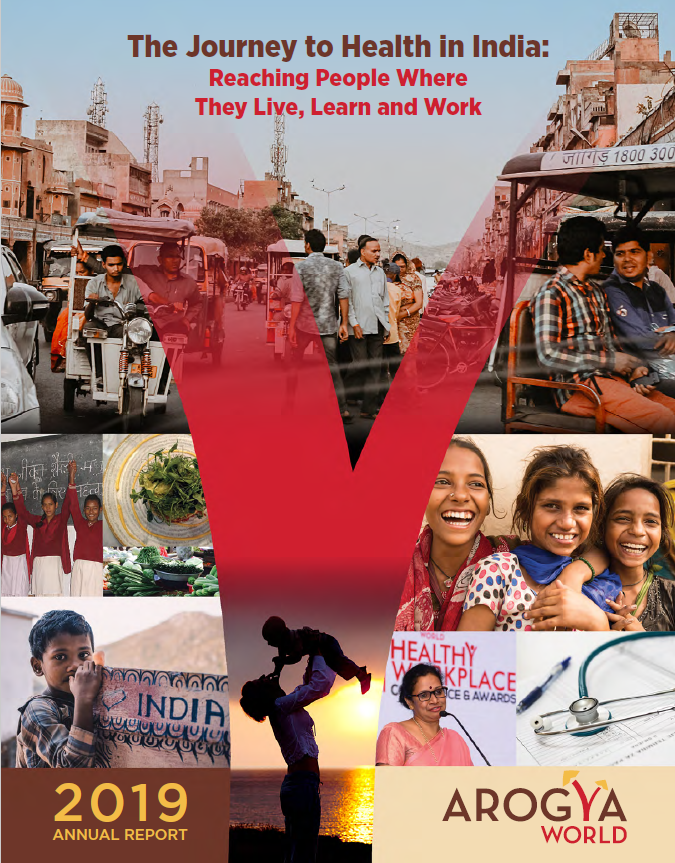 2018
Our Healthy Schools program crossed 100,000 kids.
We rolled out MyThali to 45 worksites.
Our Health Workplaces program recognized 15 new companies (making the total 116) and 7 new Platinum companies (making the total 29) at a successful conference in Bangalore.
We raised awareness around mental health in the workplace in India by holding a press event that received good media coverage.
Our mDiabetes program reached 35,000+ consumers with text messages.
Sumathi Rao joined us as the new Country Head, India.
We held a successful Board Strategy Retreat with U.S. and India board members participating.
Our annual Chicago gala raised more than $200,000, helping us make a meaningful impact.
2017
2016
2015
On March 4, 2015, we celebrated five years of running effective programs that have shown proof of concept in India and have helped 150,000 people lead healthy lives.
In late October, we convened experts to help create MyThali, which translates the India's National Institute of Nutrition's dietary guidelines into an easy-to understand picture conveying what one should eat and roughly how much.
On November 2, we launched myArogya, a chronic disease prevention mobile app for working Indians that expands beyond diabetes prevention to include awareness around heart and kidney disease as well. The app's effectiveness is now being tested by 2,500 working professionals. Key partners include Emory University's Rollins School of Public Health, ClickMedix, Madras Diabetes Research Foundation, Quest Diagnostics, and several companies, including Cognizant, Quinnox, Cyient.
Building on a 2013 Clinton Global Health Initiative Commitment, Arogya World recognized 20 companies on November 5 as 2015 Healthy Workplaces, bringing the total since the program's start to 47 organizations, encompasing 333,000 employees.
Our Healthy Schools project educated 5,000 children this year, in collaboration with Agastya International Foundation, as part of the UN's Every Woman, Every Child Commitment.
Arogya World is gaining recognition and credibility in mhealth and women's health, as well as the global public health community. We have been recognized with awards and invited to present at various international gatherings including:

Chief Medical Officer Network meeting (New York, April)
2014

10,000 Women's Global Survey implemented and completed – We were proud to present the results at the 2014 Clinton Global Initiative's annual meeting, where we fulfilled our 2013 Commitment to capture the voices of 10,000 women living in 10 countries around the world. We also presented preliminary results at the U.N. at a roundtable of thought leaders working in global health in July.
Every Woman Every Child Commitment – In March 2014, Arogya World made a Commitment to the United Nations' unprecedented effort to improve the health of women and children everywhere by educating 10,000 11-13 year old school children about diabetes prevention through lifestyle change, over the next 5 years.
mDiabetes – Analysis of data from our mDiabetes initiative revealed that at least 15 percent of the text message recipients in India adopted or maintained four healthy behaviors simultaneously: they reported they exercised regularly, ate 2-3 fruits/day, ate 2-3 servings of vegetables/day, and avoided fried food.
mHealth 2.0 – In November 2014, Arogya World won its largest ever grant to date: $260,000 from Cigna Foundation for mHealth2.0, a lifestyle intervention program with partners Emory University, Vignet, and Madras Diabetes Research Foundation.
Nalini Saligram was invited to speak at the Global Health Symposium organized by Chicago Council on Global Affairs on March 6, CORE Group meetings October 16-17 in Washington, D.C., and at IDCA Conference in Chicago on October 19.
2013
Healthy Workplaces – Part of a new CGI Commitment, Arogya World pledged to recognize 100 companies in India as Healthy Workplaces to help 1 million working people to lead healthier lives by 2016.
10,000 Women's Global Survey on NCDs – a new 2013 CGI Commitment to capture the perspectives of women on NCDs in 10 countries around the world.
CGI featured Arogya World on its site.
Healthy Schools program in India – Delhi pilot with 2,000 middle school children completed, with participants reporting that they chose healthier foods and increased physical activity as a means of preventing NCDs, particularly diabetes.
Arogya World's Nalini Saligram was invited to speak at a sponsored satellite symposium at the World Diabetes Congress on December 3, 2013.
2012
mDiabetes milestone – On January 9, 2012, Arogya World, in partnership with Nokia, sent the first text messages in its mDiabetes program to the first of the 1 million consumers we promised to reach.
Early movement toward Healthy Workplaces – On February 24, 2012, we conducted workshop in Bangalore, India to gather multi-stakeholder input that became the Bronze, Silver and Gold criteria that we use for the Healthy Workplace Award program.
Healthy Schools Initiative Completes Year 1 of Implementation – In collaboration with HRIDAY (Health Related Information Dissemination Amongst Youth), and supported by an educational grant from Merck and MSD India, Arogya World completed one year of the Diabetes Awareness and Prevention Education program among nearly 2,000 middle school students (9-13 years of age) increasing awareness and showing first indications of behavior change.
Arogya World India Trust – officially established on May 7, 2012 in Bangalore, India.
Launched op-ed series – In September, Arogya World coordinated a major 8-part op-ed series with different thought-leaders and authors, and achieved placements in The Huffington Post, The Guardian's Development blog, and the ONE blog, a strategic communication effort that helped make NCDs one of the top issues of 2012.
Launched Healthy Workplaces – The Healthy Workplace program and Healthy Workplace criteria launched in India on November 6,2012 in Gurgaon–a pioneering public health effort leveraging the workplace as a platform for diabetes prevention.
Award finalist – mDiabetes was a finalist for the 2012 Meffys Award, the mobile community's major awards for innovative mobile content and programs.
2011
Behavior Change Task Force – Arogya World assembled medical experts, behavior change experts, and consumer experts from around the world to form a new Behavior Change Task Force.
Blog Contest Winners – Arogya World wins a blog contest held by CSIS to answer the question "What should the key priority of the upcoming UN High Level Meeting on Non-Communicable Diseases be and why?" Our entry mobilized the NCD community.
Collaboration with Nokia – Arogya World launches new diabetes prevention mHealth program in India with Nokia Life Tools–a commitment announced during the 2011 Clinton Global Initiative (CGI) Annual Meeting.
Arogya World Hosts Diabetes Prevention Poster Competition – 300 school children participated in a week-long city-wide poster-making competition in selected schools throughout New Delhi on the dual occasion of Children's Day and World Diabetes Day (WDD) on November 14th, 2011.
2010
World Diabetes Day – Arogya World held a successful public awareness event in Dilli Haat, a busy handicrafts bazaar in Delhi, to raise awareness about diabetes on November 14–World Diabetes Day.
Arogya World was officially established as a non-profit organization in the U.S., and achieved 501(c)3 status later in the year.
2009
Early Coalition – Even before Arogya World was officially born, a group informally known as the Indo-U.S. Diabetes Coalition had begun work on diabetes prevention in India.
World Diabetes Day, Delhi – 4,000 school children walked in 40 school-based community walks in Delhi, from November 9th through 13th, and distributed 10,000 educational flyers in Hindi to the community.
Children Ask Prime Minister's Wife for Help – 6,000 children, parents and teachers presented Mrs. Gursharan Kaur, wife of Prime Minister of India, with Memorandum of Request accompanied by more than 6,000 signatures asking for her support.
Indo-US Diabetes Coalition Joins Hands with HRIDAY – The Coalitions Call for India's Urgent Attention to Diabetes Prevention.