Accomplishments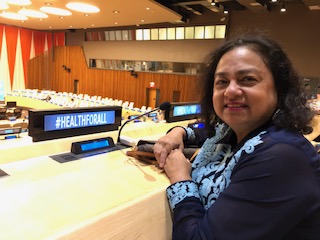 Since 2011, NCDs have received greater attention on the world stage. A historic Political Declaration was adopted in September 2011, and an omnibus resolution was passed at the World Health Assembly in May 2013, where representatives set goals to reduce the burden of NCDs and also agreed to implement WHO's Global Action Plan on NCDs. Since then, progress has been made to advance the agenda, including an increase in dialogue on the role of NCDs in the post-2015 Sustainability Development Goals.
It has also been an exciting decade for Arogya World and our work to prevent non-communicable diseases globally and to help people live healthier lives.
2023
Arogya World wins the prestigious CSR Health Impact Awards – Creating Impact in NCDs
Arogya City Bengaluru won the Gold Award at the prestigious 2023 ET Kaleido Award, which recognizes purposeful campaigns in India on the national stage.
Prestigious Institutional Funder, ATE Chandra Foundation gave grant support to Arogya's funding function.
Dr. Nalini Saligram speaks at the ET Women's Conclave 2023 in Delhi
2022
Arogya World wins the prestigious UN Award
Arogya World is proud to receive the Together Women Rise Grant
Dr. Nalini Saligram wins the Business World Award
Rotary and BPAC join Arogya as partners for Arogya City (Bangalore).
#RedSareeChallenge campaign launched to create awareness about women and heart health.
In the Top 15 as part of the WhatsApp Incubator Programme (WIP) in India.
2021
#HealthyWaliDiwali campaign to encourage consumers to eat 1 balanced meal every day
Digitized Schools Program. Completed Effectiveness pilot May 2021
Stanford CARE's sabbatical @ Arogya – March – August 2021
Google AI for Social Good Award May 2021
Started COVID Solidarity Fund in May – support for 10 ICU beds in Tumkur with Dr Ashwin Naik's Mission ICU, for starting Listening Circles for mental health support at Sangath, founded by Dr Vikram Patel, and for curating and distributing Digital Health Infokits broadly.
New mDiabetes outreach to 100,000 with RIST support at LV Prasad Eye Institute at Hyderabad.
We developed new workplace criteria for mental health – a first in India – working with Harvard professors from Librum. We launched the comprehensive criteria at our Nov. 4 online Healthy Workplace conference.
We digitized our school health program working with Zobble, and are placing the digital content on the government platform Diksha. An effectiveness pilot is planned in 1Q 2021.
We had a positive presence at the Ashoka Globalizer Accelerator summit in Nov., the culmination of an intense six-month systems change strategy exercise.
On MyThali, we started important relationships with influencers including Chef Saby and the Bangalore Foodies Club, and have made great strides in reaching urban women through social media.
In 2020, we shored up stakeholder relations and signed MOUs with heavyweight groups such as the Confederation of Indian Industry that we know will propel us forward.
We completed the RIST-supported mDiabetes project at Aravind and have just started picking up on Lions, Ambuja, and other ongoing mHealth projects.
We rolled out a work-from-home survey among working Indians and issued a report in Aug.
In 2020 we celebrated our 10th anniversary and held a successful online gala.
We also held many important webinars throughout 2020 for U.S. audiences from exploring the NCD-related fall-out from COVID.
Read more in our Annual Report 2020