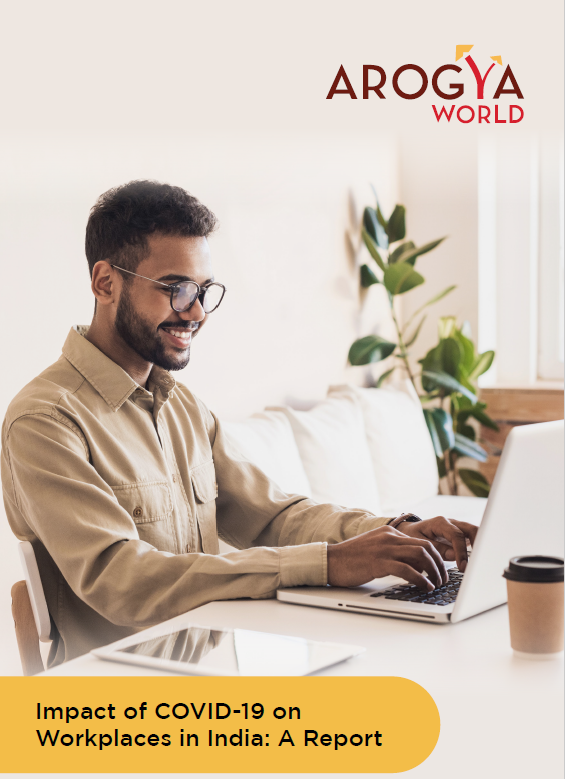 A major new report was issued by Arogya World this week on the Impact of Working from Home on Workplaces in India. The report covers work done by us in April-May 2020, and includes findings from a formal well-being survey (adapted from the one from Institute for Employment Studies (IES), UK) and a series of webinars exploring issues top of mind for employers during the lockdown. We thank Dr. Stephen Bevan from IES for collaboration, the Global Centre for Healthy Workplaces for highlighting the issue in one of their early global calls this year, and our partners – iNFHRA, GACS, CII and CBRE – for promoting the survey in workplaces in India. We also thank Arogya World colleagues for their tireless work to advance workplace health through this report especially
Dr. Sandhya Ramalingam, Usha Chander, Nandan Bhatia, Ashwini Thakker, Kshema Kurup, Vijayalakshmi Harish, Sumathi Rao.
Key Takeaways include:
The strategic value of workplace health has increased greatly. Employee health is now being given a lot of attention by companies and managers. This is an opportunity for advancing NCD prevention and wellness in India's workplaces.
Work from Home is working fairly well in India. Companies must continue to communicate and engage with employees, give them meaningful work and make them feel valued. This is important for motivating employees, and for both short-term and long-term gains.
Mental Health is of particular significance in these uncertain times and workplaces must do more to directly confront and tackle that.
What is becoming clear is that now, more than ever, it is important for individuals to lead a healthy lifestyle, to boost immunity by eating right, lead a balanced life and prevent disease. This is what is at the core of Arogya World's mission – to combat noncommunicable diseases (NCDs) through healthy living.