Healthy Schools
Behavior change—getting people to increase physical activity and improve dietary intake is the prime challenge in diabetes prevention. To be effective, we must reach young children before their lifestyle habits are fully established.
Our school-based programs are at the core of our offerings. We believe they will be extremely effective in establishing a lifelong respect for exercise and healthy eating.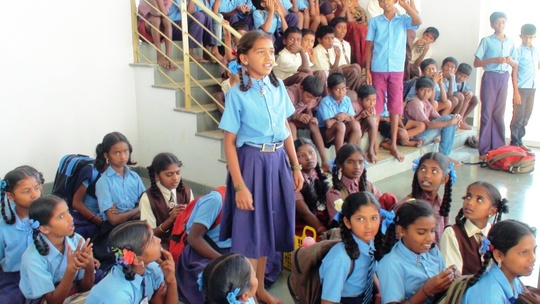 Diabetes Awareness and Prevention Education
Based on a school education model for tobacco control that proved successful in Delhi, Arogya World established a two-year school-based pilot for diabetes awareness and prevention education. This program, developed in partnership with youth NGO HRIDAY in India, used influencers such as teachers and peers to reach and educate 11- to 14-year-olds about diabetes and its prevention. The comprehensive program, which kicked off in 2011, included classroom and school-based activities, as well as outreach efforts in students' homes and communities. Support for developing the materials and reaching and teaching these children was obtained from Merck/MSD.
We measured the program's effectiveness through pre- and post-pilot comparisons of the students' self-reported knowledge, attitudes and behavior and were encouraged to learn that children reported a better awareness of diabetes and its prevention and had reduced their consumption of junk foods.
Download the results of the Delhi pilot.
Schools Program Expansion in India
Currently, Arogya World's two-year program is being adapted to rural India and being implemented with 12,000 children in rural South India with Agastya International Foundation. We are working with Agastya's Young Instructional Leaders, training them to deliver the program to their classmates. Hans Foundation has given us grants to expand this program to reach 100,000 students.
The next phase of our Healthy Schools program is well underway. This 2-year program is designed to teach middle school children the basics of healthy eating and physical activity, with the goal of preventing diabetes. Through mid-February 2015:
600 students have completed the two-year program
1,800 students have completed the first year of the program. (We will implement the second year of the program to the same 1,800 students next school year.)
Pre- and post-intervention questionnaires were filled out by all 2,400 students and data will be analyzed later this year.
Every Woman, Every Child Commitment
In March 2014, Arogya World made a Commitment to the UN's Every Woman, Every Child Initiative, an unprecedented effort to improve the health of women and children everywhere. We committed to reaching and teaching 10,000 additional children with our two-year diabetes prevention program by 2019. Read our Commitment.
Progress
2011-2013 – Schools Pilot in Urban India (Delhi) with 2,000 children (completed)
2013-2015 – Adapted to Rural South India with Agastya (completed)
2014-2019 – Every Woman, Every Child commitment for 10,000 children (completed)
2017 – Received funding from Hans Foundation to support expansion to 100,000 students
2017 – Kicked off program expansion to 20,000 students with Agastya over 3 years
2018 – Program expansion starting with 80,000 students with HRIDAY over 3 years