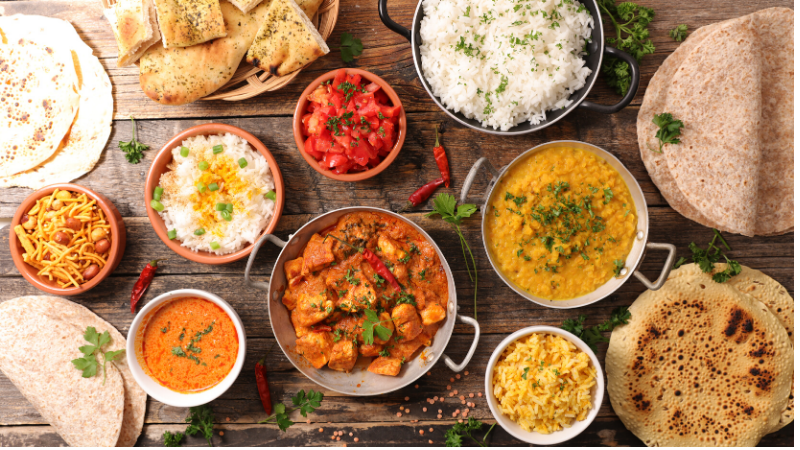 Christmas is the favorite time of the year for many across the world and India is no exception to it. While the country has a Christian minority, every individual soaks up the magical atmosphere of Christmas becoming a joyful festival of Indian traditions.
No celebration in India is considered complete without masses of delicious food. Preparations begin weeks ahead and the Indian tradition of spreading loving amongst neighbours is done through an exchange platters of sweets and snacks with each other. Many of these traditional recipes have been passed down for generations and are favourites of the season.
Some of the popular dishes eaten during Christmas in India are:
All Over India:
·        Biryani (Chicken/Mutton)
·        Chicken and Mutton Curry
·        Roast Chicken and other meats
·        Stews (Chicken/Mutton/Fish
·        Cakes (Plum, Fruit, Allahabadi Cakes)
·        Chocolate Walnut Fudge /Rolls
·        Biscuits, cookies, tarts
·        Mousse
·        Candy Canes
Gulab Jamun, Jalebi, Kheer

Dumplings filled with Indian spices with a sweet or savoury fillings
·        Pondicherry : This ancient French colony serves specials like fig and blackcurrant cake, blackcurrant and caramel cookies and Yule log along with hot spiced wine.
·        Meghalaya : Cakes, pies and puddings, smoked meat and vintage wine are some of the delicacies fancied here by Christmas revellers.
·        Kolkata : The sweet capital of India has markets decorated all around the city serving Jewish cakes, Notun-Gurer Sondesh and savory snacks like pork ribs. plum cakes, rum cakes and dry-fruit cakes can be gobbled up with a hot cuppa!
·        Goan Catholics have pork dishes and beef dishes as part of their main course of their Christmas dinner. These include Pork Vindaloo and Sorpatel. For desserts they have Bebinca and Kulkuls (Coconut cookies).
Odisha – Chhena Poda, a dessert made with Chhena (cottage cheese) which is slightly roasted and soaked in sugar syrup. It is garnished with cashew nuts and served.
As the holiday season rolls around, sticking to a healthy eating plan can prove challenging. Many of us dine a little more richly during the holidays: With soul-warming family dinners, festive parties, obligatory office gatherings, and casserole-laden potluck meals, it can seem like temptation lurks around every corner throughout the last months of the year. There's nothing wrong with loosening your dietary standards (and your belt) once in a while, especially when it comes to beloved dishes that only make an appearance on special occasions. But that doesn't mean you have to totally blow your meal plan at every get-together this holiday, especially if you have some control over the menu.
MyThali – a nutritional tool tells you what in which quantity you should, offering you balanced meals that can served to your dear ones this holiday season. Further, cooking at home improves the quality of your meals. Make your yummy meats and desserts more nutritious by using Havells Air Fryer, OTG and Food Processor!
Tips to Keep Your Christmas Feast a Healthy One!
For Savouries and Snacks:
Limit red meat (lamb, beef, pork) consumption as it increases the risk of heart diseases, diabetes, and colon cancer.

Lower the use of processed meats as they too lead to NCDs.( Eg. Sausages and Bacon)

Replace these meats with lean/white meat like poultry. (Eg. Chicken and Turkey)

Go for grass-fed organic meats. This meat comes from animals that have been naturally fed and raised organically, without drugs and hormones. They also don't have any artificial chemicals added to them.

Have different types of fishes instead of meats. They provide healthy fats.

Roasting grilling and baking are the best methods of preparing meat instead of deep frying. These help to minimize the loss of nutrients.

Cook butter chicken, fish fillets, fritters and other meat delicacies using the Havells air fryer. It uses minimal oil and yet gives a texture of crispy fried food.
For Sweets and Desserts:
Add cinnamon, cardamom, saffron, nutmeg and fruit concentrates to perk up the sweetness of your sweets.

Replace refined sugars with organic jaggery, honey, dates and figs. This adds nutrients and not empty calories.

Baking goodies at home helps you cut down on fats and sugars. All the baked foods bought from bakeries are made using hydrogenated oil / dalda / vanapati oil. This increases the trans fats in our body leading to increase in Bad cholesterol and risk of cardio vascular diseases.

Choose fresh fruit salads, smoothies, to make up for your Vitamin, mineral and fiber intake.
When you are dreaming of sweets, balance out your indulgence with some healthy Christmas recipes that don't taste a bit like deprivation. Let your healthy menu for the big day allow you to save room for sweets. And since you're on the nice list for dinner, that means you can be on the naughty list for dessert, right?
Most importantly cook together, share, give and spread love and make this Christmas a healthy one. Wishing you all a Merry Christmas and a Healthy New Year!
Additional Infographic Option:
Let's take a look at different Christmas and Hanukkah food traditions around the world!
Meats / Snacks

Sweets

LATKES (ISRAEL)

Latkes are fried potato pancakes are cooked in oil. This recognizes that the Second Temple kept the Menorah burning with oil for eight days.

Other dishes enjoyed as a part of this tradition include fried donuts and fritters. 

CHRISTMAS PUDDING (ENGLAND)

Christmas pudding, this dessert is a key Christmas tradition in England, Ireland and some parts of the US.

CHRISTMAS GOOSE (GERMANY) Often stuffed with apples, chestnuts, onions, and prunes, then spiced with mugwort and marjoram, the goose is served alongside red cabbage, dumplings, gravy and sauerkraut.

BÛCHE DE NOËL (FRANCE)

Often made from sponge cake and chocolate buttercream, La Bûche de Noël looks quite a bit like a real log.

PANETTONE (ITALY)

In some parts of Italy, they celebrate with The Feast of the Seven Fishes. This meal includes seven different fish prepared in seven different ways. 

MELOMAKARONA (GREECE)

Sweet orange-zest cookies soaked in honey and topped with walnut? Yes, please! This item is a holiday treat that regularly appears on tables in Greece. 

TAMALES (COSTA RICA)

The basis of tamales is a corn dough, wrapped in a banana leaf or corn husk, and then steamed. Some are stuffed with pork, and some with beef or chicken.

SAFFRON BUNS (SWEDEN)

For dessert, rice pudding is popular, but there's another treat for which the Swedes are known to make around this time – Saffron Buns.