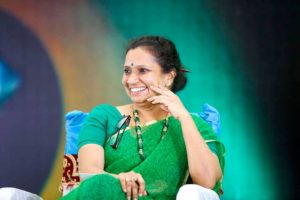 Arogya World today announced the appointment of Sumathi Rao as the head of our office in Bangalore, India. Sumathi comes to Arogya World after a decade at Philips India where she led strategic CSR, healthcare advocacy, and communications. We asked her a few questions that illuminate her experience and motivation. Get to know Sumathi!
What drew you to Arogya?
India is already showing signs of becoming the chronic disease capital of the world. According to the latest World Health Organization report, about 61% of deaths in India are due to non communicable diseases (NCDs) like diabetes and heart disease. Reasons for this range from stress to an unhealthy diet. Lifestyle and diet modification are keys to reducing the incidence and occurrence of NCDs. The government and corporations play a huge role in this, but it is nonprofits like Arogya that can make a huge difference  both in urban as well as rural and underprivileged communities. Also, the doctor patient ratio, low accessibility of healthcare in rural areas, and lack of awareness in urban communities are other challenges that India faces. I have always wanted to work for an organisation which was making a difference in this area. Arogya was a perfect fit. For me this is not just a job, but a mission to educate, raise awareness, and change the course of chronic disease. That's what appealed to me.
How have NCDs, particularly diabetes, affected you personally?
My father died of Myocardial Infarction over a decade ago, and a few of my favorite aunts suffered from diabetes. My work with Apollo allowed me to interact with patients and work for the preventive health section as well. Later, my stint at Philips was in diagnostics, which gave me insights into prevention. My belief that there is a lot to be done in the area of healthcare in India grew stronger. Working in both urban slums and rural communities, I have seen close up how the lack of awareness can lead to an increase in NCDs, which in turn increases healthcare spending for low-income families, making their lives miserable. This only strengthened my belief that I wanted to make a difference in this area.
How will your background help you accomplish Arogya's mission?
My expertise is in healthcare, writing about it as a journalist, leading advocacy and healthcare awareness campaigns as a communication person, working as part of the corporate marketing team for preventive healthcare, designing programs for the grassroot level as Head CSR of a large corporate. Arogya's mission needs all these bundled in one. And I hope to make a difference!
What is your vision for the future of NCDs?
India's population is huge, and so are its healthcare challenges. Partnering with the government, corporations, and individuals–all of these must come together. We have to make this a movement. The time has come for collective social responsibility to prevent NCDs.
What brings you joy (and good health)?
A brisk morning walk, moderate eating, and my evening meditation. I love reading Indian fiction and binge watching Netflix over the weekend. I also find theater and Indian classical music and dance invigorating. But it's time with family that is my manna from heaven!