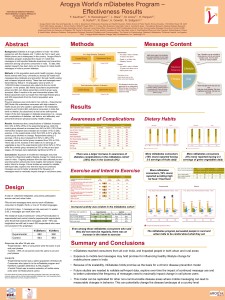 Arogya World participated in the International Diabetes Federation's World Diabetes Congress held in Melbourne December 2-6, 2013, and saw first-hand the energy and excitement around diabetes today. There, 10,000 delegates from around the world gathered to discuss research and share ideas. It was wonderful to watch the process of scientific discovery unfold, and see the impressive displays by pharmaceutical companies and others.
Arogya World's Nalini Saligram was invited to give a pace-setting talk on prevention in the symposium sponsored by Novo Nordisk –  Breaking the Barriers to Sustainable Access to Care.  What struck us was the "Rule of Halves" brought up by Novo Nordisk at this symposium and throughout the conference venue – that only half of the people with diabetes in the world are diagnosed, and of them only half get treated and so on as explained in the IDF Access to Care Symposium Program. We know that we can do better.
Arogya World also happened to participate in another symposium organized by GSMA and IDF on mHealth in Diabetes, sharing the latest mDiabetes effectiveness results. Announced at this meeting was the start of a new collaboration between the two organizations to leverage the power of mHealth to improve diabetes care. We welcomed the collaboration, because we know that it can help to advance diabetes prevention and control in the world.
Arogya World also had a poster at the Congress, on mDiabetes results, and a late-breaker abstract.
All in all, it was a great event and an important meeting for our organization. An exciting end to an eventful year.