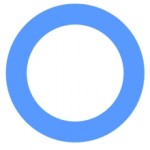 During the last month, you have probably seen more than one pink ribbon.  Every October, breast cancer awareness month, we see the pink ribbon displayed on everything from shirts to mugs to even stamps.  Most people in the U.S., even many young children, are familiar with the pink ribbon and that it stands for breast cancer awareness. For the last 20 years, the pink ribbon has helped to increase awareness and funding for a very worthy cause.
The sea of pink that takes over October is not only a reminder of how many people breast cancer has affected, but also how many people stand against it.  It sends a powerful message that we as a community are standing up to a deadly NCD.
The pink ribbon has taught us an important lesson – a simple message can have a large impact on community awareness.  This lesson can be used to combat another NCD – diabetes.
Diabetes also has a symbol to raise awareness, the blue circle.  The blue circle has only been in existence since 2006, when the  International Diabetes Federation (IDF), chose it because in many cultures a circle can symbolize life and health.  And, more importantly, the circle symbolizes the unity that is necessary to combat such a deadly NCD.  IDF chose the color blue for the color of the sky and the flag of the United Nations, an organization that stands for unity among many nations.
World Diabetes Day (WDD) is on November 14th, almost a week away.  Diabetes education and prevention is the WDD theme for the time period from 2009 – 2013.
Awareness efforts include the WDD Blue Monument Challenge.  On November 14th, 2010, over 900 monuments and buildings were lit blue to raise awareness for diabetes. This popular campaign will continue this year.  If you would like to learn more about this initiative or to find out how to go about lighting a building blue, visit the WDD Monument Challenge section of the IDF website.
At Argoya World, we will mark World Diabetes Day 2011 with a poster-making contest in schools in Delhi and by turning our Facebook and other pages blue.  In the past years we have held scores of community walks led by school children in Delhi and have also participated in community awareness efforts.
We encourage you to go blue for diabetes on that day.  Explain the meaning of the circle to your family and friends, or just simply wear blue. We urge you to visit the IDF website and learn more about the IDF, International Diabetes Day and the Blue Circle. Together we can send a strong message through the use of one, simple symbol and one, simple color.