With this piece, Arogya World launches a new series – The Faces of NCDs – where we will highlight some of the men and women who have found ways to live with their disease. Chronic diseases take an enormous toll on human beings and their life course, and we plan to feature some stories of remarkable courage.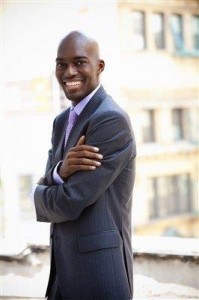 Arogya World founder Nalini Saligram met Seun Adebiyi at the GTF.CCC (Global Task Force on Expanded Access to Cancer Care and Control) "Closing the Cancer Divide" conference in Boston on October 28, 2011. And she was immediately taken by his story, his drive and his eloquence. "This young man's sheer grit, determination and incredibly positive attitude to life are inspiring to all," said Nalini. To mark World Cancer Day, Feb 4, we are pleased to share his inspiring story, and how he's turning a personal challenge into a better chance for survival for others.
Originally from Nigeria, Seun moved to Alabama at the age of six. A hard-working and gifted athlete, Seun later became one of the top swimmers in the U.S. While training for the 2000 Olympic Time Trials, he fractured his back, dashing his hopes for a spot on the Nigerian Olympic Team. Three years later, after intensive rehabilitation, he tried out again for the 2004 Summer Olympic team, only to miss qualifying by a tenth of a second. In 2009, he decided to focus on becoming the first Nigerian in the Winter Olympics, and chose the dangerous, high-speed skeleton as his sport. In June 2009, while training (and just days after graduating from Yale Law School), he was diagnosed with two rare and aggressive forms of cancer: lymphoblastic lymphoma and stem-cell leukemia.
And so Seun faced a new challenge – finding a good match for the bone marrow donation he desperately needed. He soon learned, though, that the bone marrow registry suffers from a shortage of minority donors, and so finding a match would be a long shot.
He's in remission now, thanks to a cord blood transplant, and training for the 2014 Winter Olympics in Sochi, Russia. He's also working to recruit 10,000 marrow donors and on World Cancer Day (February 4, 2012) will launch the first bone marrow registry in Nigeria to improve the odds for everyone in need of a transplant.
As Seun reflects in his blog: "February is a very auspicious month for me. For the past three years, it has been a month of milestones: the three-year anniversary of my decision to once again train for the Olympics; the two-year anniversary of my miraculous cord blood transplant; and the one-year anniversary of passing the New York bar exam.  This year, I celebrate February with the launch of the Nigerian bone marrow registry."
We at Arogya World wish Seun well – both for the Olympics and for the success of his registry.  We will be following his future with interest.
We asked Seun a couple of questions:
What's the best news you've heard about cancer recently?
I recently read about an experimental treatment for CLL (the most common form of leukemia) at the University of Pennsylvania that was greatly exceeding expectations. There is still a lot of research to be done, but the initial results are very promising.
How did you motivate yourself when you were ill?
There were days when I felt I could not stand the pain for another minute. I would repeat to myself, "this too shall pass," over and over again. It was a powerful lesson in surrendering and letting go, which I still draw on today when the going gets tough.
Who is doing great public advocacy work on cancer?
I am impressed by the work of the Young Professionals Chronic Disease Network (YP-CDN), which is connecting young professionals all over the world in the fight against chronic diseases.
Tell us more about the Nigerian bone marrow registry.
Bone marrow registries target a broad range of diseases. Over 70 illnesses, including blood and autoimmune disorders such as sickle-cell anemia, can be treated with a stem cell transplant. Millions of Nigerians suffer from blood disorders that can be successfully treated through bone marrow and cord blood transplants. Now that Nigeria has its own registry, patients will be able to look to their countrymen, as well as internationally, for possible donors. In addition, the registry will link Nigerian donors to patients around the world, giving them a better chance of finding a match.