Exciting Results Show Increased Awareness and First Indications of Behavior Change.
In collaboration with HRIDAY (Health Related Information Dissemination Amongst Youth), and supported by an educational grant from Merck and MSD India, we recently completed one year of the Diabetes Awareness and Prevention Education program among nearly 2,000 middle school students (9-13 years of age) in six schools in Delhi, India. Our goal was to encourage children to adopt healthy lifestyles – increasing physical activity and healthy eating habits, with the overall goal of helping them to prevent – or at least delay – the onset of chronic diseases like diabetes, heart disease and obesity later in life.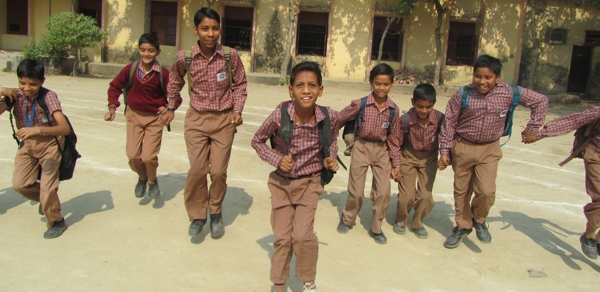 Our results from the first year are in. They show that when diabetes awareness and prevention messages are delivered to middle school children by trained teachers and peer-leaders using age-appropriate, creative and compelling educational modules, they are effective in increasing both awareness of diabetes and its seriousness, and interestingly, in bringing about behavior change.
Encouraging Trends
We're delighted to report that students demonstrated an increase in knowledge about healthy eating, physical activity, diabetes and its prevention. Some highlights:
That unhealthy eating habits can put one at risk for diabetes was reported by 77.2% students after year 1, as compared to 65.4% at baseline.
61.3% after year 1 intervention reported that being physically inactive or not doing regular exercise can put one at risk of diabetes, versus 50.1% at baseline..
More students (73.2%) after year 1 intervention, than at baseline (67.3%), reported that people with diabetes are more likely to develop heart disease, stroke, kidney and eye problems.
We also gathered important insights into children's eating habits and physical activity, and demonstrated reductions in the consumption of carbonated drinks, fried snacks, sweets and chips after the intervention. For example:
15.6% at baseline consumed carbonated drinks daily, vs. 8.9% at year 1.
Those who preferred fruit chaat (lower calorie fresh fruit snack) over aloo tikki (pan-fried potato patties) increased from 60.3% at baseline to 68.9% students after year 1.
44.1% of children reported going out and playing with friends during their leisure time, vs 35.1% at baseline.
68.5% of the students after intervention reported that they climbed stairs when going to somebody's house located anywhere between 2nd floor and 5th floor of a building as compared to 56.8% students at baseline (p< 0.001).
Download a PDF report of the results.
"These results show proof that we can change behavior in the school setting, and  intervene to change children's eating habits.  If we can make these lifestyle changes sustainable we will have made meaningful public health impact by steering at least these 2,000 children towards healthy futures," said Nalini Saligram, Arogya World's founder.  "The 2011 school program has been gratifying, and a good step forward for Arogya World."
A Little Background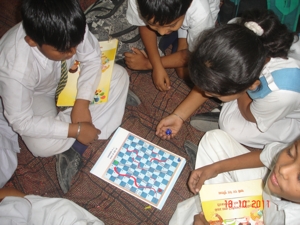 According to the WHO, 80% of diabetes and heart disease and 40% of cancers can be prevented with healthy eating, increasing physical activity and stopping tobacco. India has a particularly huge diabetes problem (50 million Indians have diabetes and Indians get the disease 10 years earlier than Western counterparts), and because so much of the population is young (50% of India below age 25), we wanted to evaluate whether a schools-based education program would be effective in increasing adoption of healthier lifestyles – reaching children before their lifestyle habits are fully set.
Our diabetes program was based on the MYTRI (Mobilizing Youth for Tobacco-Related Initiatives in India) project. MYTRI is India's first successful published school based tobacco use prevention intervention. Conducted with students between the ages of 10 and 16 in 32 government and private schools of Delhi and Chennai, India, the program reduced current tobacco use, reduced their future intentions to use tobacco and also enhanced health advocacy skills (Perry CL, 2009).
We began with a baseline survey about students' knowledge, attitudes and practices related to healthy lifestyles – covering nutrition, physical activity, healthy cooking practices, obesity and diabetes and the prevention of diabetes with lifestyle changes.
After training teachers and peer leaders, five age-appropriate school-based interventions (including interactive classroom sessions and learning games) were developed and then carried out in all 6 schools to increase the knowledge and alter students' attitudes about healthy lifestyle practices.
"These results highlight the effectiveness of diabetes awareness and prevention education," says Shalini Bassi, Head of Programs at HRIDAY. "Therefore, there is a need to include such interventions involving students to prevent or at least delay the burden of chronic diseases like diabetes, obesity and heart disease later in life."
Next Steps
Informed by all we've learned so far, we believe that repeating the program with new educational modules in the same school children for the second year in a row  will be effective in making the positive trends in awareness and behavior change "stick," and we are currently working to continue this important project.  We are also interested in partnering with other organizations to implement the program in other parts of India.