Pradip K. Patiath and Shalini Sharma bios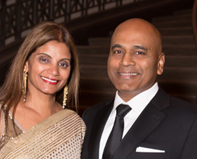 Pradip K. Patiath
Pradip Patiath is a Chicago-based Senior Partner at McKinsey & Company and serves clients across the Financial Services and Technology industries. He is a senior leader of McKinsey's Financial Services sector, has served as the Managing Partner of Digital McKinsey in the Midwest, and as head of McKinsey's Consumer/Business Banking and Digital Insurance practices in the Americas.
Over the past two decades, Mr. Patiath has served clients in the banking, wealth management, insurance, payments and FinTech sectors on issues of strategy, growth, organization, distribution, operations and digital transformation, and has personally led a number of major performance transformations at his clients. His experience has spanned North America and major international markets across Europe, South America and Asia. He has authored several leading publications, most recently on the topic of disruption and digitization within financial services. He is a frequent speaker and commentator at major financial services and technology industry conferences.
Mr. Patiath's prior experience has included building an enterprise software company in the digital insurance sector as President and COO at CCC Information Services. Previously, he also worked for Honeywell, Inc. in Minneapolis, MN, and for Schlumberger Wireline Services in Paris, France.  He was awarded a US patent for work he did on real-time digital transaction systems.
Mr. Patiath is very active in the Chicago civic community and recently served as the Chair of the Board of the Adler Planetarium of Chicago. He also supports and is actively involved with, several other civic institutions, including the Chicago Humanities Festival, Marwen, American India Foundation, the Field Museum and the Art Institute of Chicago.
Mr. Patiath holds an MBA degree with distinction from Northwestern University's Kellogg Graduate School of Management.  He also holds an MS degree in computer science and received his BS degree in mechanical engineering from Indian Institute of Technology, New Delhi.
Shalini Sharma
Shalini Sharma had a long successful career as a business analyst and management consultant for 17 years, following which she founded SHALINI STYLES in 2010, where she traded in her spreadsheets to design contemporary women's were. She is deeply involved with the Human Rights Watch organization since 2014 and is currently the C0-Chair of the Chicago committee. She also served on the Executive Committee of the Board of Trustees of Marwen since 2011, a non-profit that educated and inspires young people from under-served communities and schools in Chicago through the visual arts.