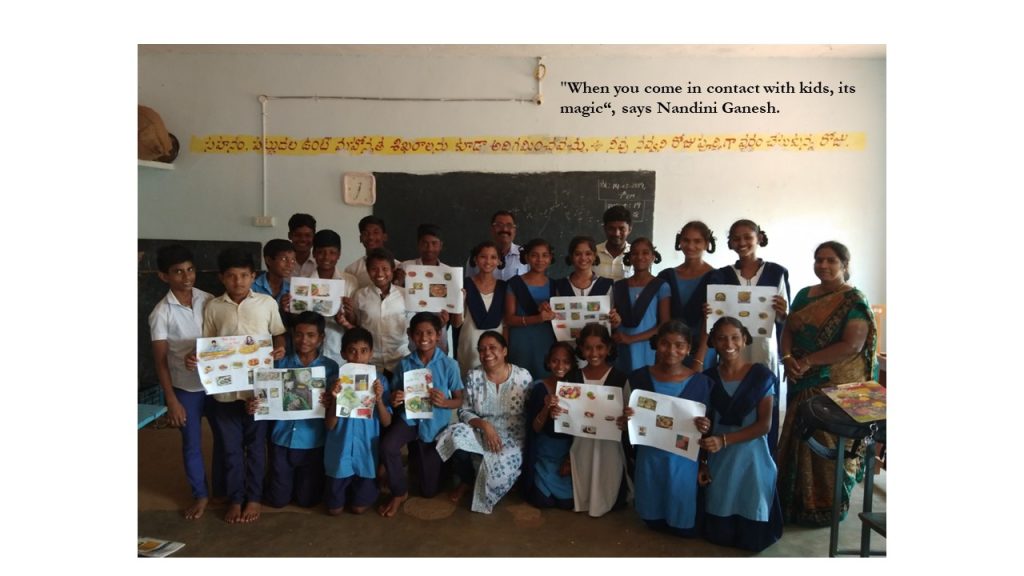 10 years. Nandini Ganesh
never thought that a coffee conversation with
Dr Nalini Saligram
would change the course of her life forever, for good. "I still remember the vision Nalini shared about the Healthy Schools Program. Today 10 years later, I still feel that it's Day 1 for me as I walk into a school and interact with children, teachers and partners to explain the program."
The program, a
scientific and activity-based participatory 2-year intervention
for middle school children (6-8 standard and age 11-13 years) has been implemented in 750,000 children. The content is available in 9 local languages and implemented across 12 states of India and also digitally on the government portal Diksha.
"Nandini has been the backbone of our organization these past 10 years and a real asset to Arogya. She has invested so much of herself in the Healthy Schools Program, that the impact is there for everyone to see," shares Dr Nalini Saligram. Everyone in the team, across partners and schools echoes the same sentiment – she is authentic, sincere and hard working. More importantly, she goes the extra mile to build and sustain relationships.
It's no surprise that Faiyaz Akhtar – CEO, SRU Innovations, shared a heartfelt note for Nandini. "As Arogya World's partner in implementing the Healthy School Program, the SRU team admires Nandini's passion and energy to empower lakhs of children and educate them about malnutrition and NCDs. Her ability to work hard, understand the contexts within diverse Indian cultures, her people-sensitive approach, and how she encourages us to evolve and adopt innovative project strategies sets her apart from the others. In the last four years of partnership; her support has led us to become a well-established team, working on nutrition, health, and NCDs in low-resource settings. Nandini is and will always remain in the hearts and souls of SRU team members."
"There are a few lessons I've learned along the way – always look at the long-term goal while celebrating small milestones, listen and consider everything as an opportunity, value and respect your peers, colleagues and most importantly beneficiaries", shares Nandini.
As the team celebrated this moment with her, she acknowledged that it's the "sense of empowerment and open culture" that sets Arogya apart from other organisations. And most importantly, "When you come in contact with kids, it's magic".
To many more such milestones and celebrations.