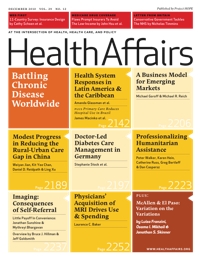 Released today, the December 2010 issue of Health Affairs offers a number of thoughtful articles focusing on chronic disease. Featuring several studies from different parts of the world, the issue is dedicated to "Battling Chronic Disease Worldwide," and highlights effective strategies to prevent and treat diseases like diabetes and cardiovascular disease, from Chile to China.
Prevention programs and greater utilization of primary care services, they found, are two of the best strategies to help people live longer, healthier lives while reducing health care spending. While such simple, cost effective interventions offer hope for communities around the world, researchers also note that lack of government funding continues to impede progress.
Importantly, on their website, Health Affairs cites a survey by the Center for Studying Health System Change which found that the magazine is "consulted by 55% of staff members on U.S. congressional committees of jurisdiction in health." To us, this means that with such publications, the issue of non-communicable diseases (NCDs) is reaching people who frame the discussion in government and craft our global health policies.  The timing of this publication is particularly good, as the world prepares for the UN Summit on Non-Communicable Diseases in September of 2011. The articles can impress upon policymakers the threat posed by NCDs on the lives and livelihood of people and communities worldwide. At the same time, they will learn how other countries are facing and meeting this enormous challenge head-on.
The publication highlights the growing NCD epidemic in developing countries.  One study focuses on the success of Brazil's Family Health Program. Authors James Macinko, Ines Dourado, et al. explain that most services are provided in community-based clinics by teams that include medical personnel and community health agents, who also make regular home visits and conduct neighborhood health promotion activities. The researchers found that during 1999–2007, hospitalizations for cardiovascular disease, stroke, and asthma fell at a significant rate, suggesting that strengthening primary health care is indeed a strong strategy for battling chronic diseases globally.
Another paper focuses on a business model for addressing chronic diseases in developing countries.  In this, Michael Goroff and Michael R. Reich propose a model of partnerships between pharmaceutical manufacturers, local providers, and a mix of public, private and non-profit entities which can provide integrated, comprehensive care and preferential prices for medicines for chronic diseases. This model, the authors posit, "has the potential for public health and private business to cooperate in addressing the rising problem of chronic diseases in emerging markets."
"This model – based on partnerships between pharmaceutical companies, providers, and nonprofit organizations – is a viable way of delivering healthcare in the developing world," says Raj Dave, President of PharmARC Inc, and Advisor to Arogya World. "It is particularly exciting because such partnerships go beyond the traditional approaches of the Western world and can drive positive health outcomes for entire populations."
Editor-in-Chief Susan Dentzer has encouraging words, "Fortunately, as these articles lay out, a number of interventions have been proven to save lives, spare disease, and save money." Further, she points out that the interventions described seem not to be community-specific and therefore are likely to be successful in communities around the world.
Click here to see the December 2010 issue of Health Affairs.