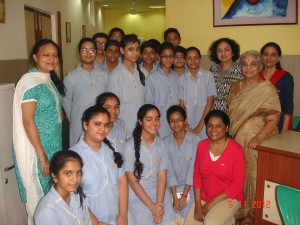 2012 has been an exciting year for Arogya World and the NCD community. We are pleased that the world is waking up to the enormous threat that non-communicable diseases, including heart disease, cancer, diabetes and chronic lung diseases pose
to global health and development, and we are energized by the progress made. The world took a giant step forward in 2012 – countries committed to a 25% mortality reduction by 2025, and 8 other measurable goals and 25 indicators. It is exciting to watch this progress unfold on the world stage. If the world achieves what it has set out to do, we will make huge strides against NCDs in our lifetimes.
Reflecting further on a great year, Arogya World took some big steps too:
Just last month we launched our Healthy Workplace program in India, releasing criteria by which companies can earn awards for investing in workplace wellness.
We reached a major milestone in mDiabetes, connecting with more than half a million people in India, educating them with text messages about diabetes and its prevention in 12 languages. This incredible progress made in partnership with Nokia puts us on track to meet our commitment to the Clinton Global Initiative to reach one million Indians with this valuable information by September 2013. Initial results of consumer feedback on our messages have been promising, and we're looking forward to completing our effectiveness research at the close of the program.
We co-ordinated a major 8-part op-ed series in September, 2012, with placements in The Huffington Post, The Guardian's Development Blog, and the ONE blog, a strategic communication effort that helped make NCDs one of the key issues of 2012.
Our Healthy Schools program showed positive results – greater awareness of diabetes and its complications, reduced consumption of junk foods and sugary drinks, and increased choice of healthy foods. We are continuing this program in 2012-2013 as well.
We established Arogya World India Trust in Bangalore on May 7, 2012.
See a more comprehensive list of our 2012 accomplishments.
We thank our partners and donors, and our board members, advisors and consultants, without whose help we could not have done this work. We are currently engaged in a campaign on Global Giving to raise funds for our mHealth initiative. Please
consider us as you plan your year-end giving. Even the most modest donation will help us earn a permanent spot on this site.
Global Giving: Diabetes Prevention mHealth for 1 Million in India
Thank you all for helping us achieve our mission – to change the course of chronic disease, one community at a time.