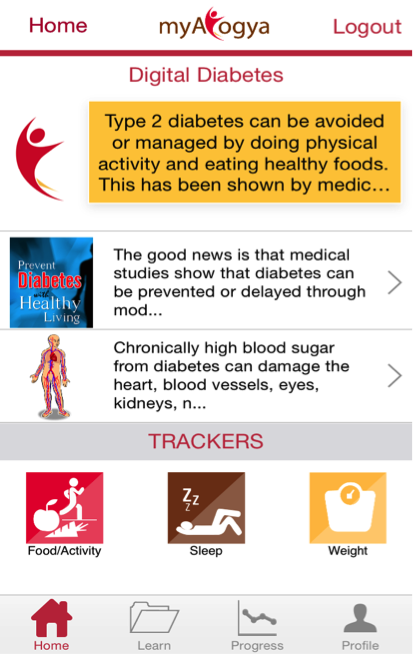 A research paper on the effectiveness of our mobile app myArogya to advance diabetes prevention and control in working Indians has just been published in the
Journal of Diabetology
.
We are grateful for significant support from the Cigna Foundation for both app development and the research study. The study was done in collaboration with Madras Diabetes Research Foundation in eight of our Healthy Workplaces in Bangalore, India.
"We learned a lot about  the use of mobile technology in behavior change and are pleased to have contributed to the advancement of science," said Dr Sandhya Ramalingam, who heads our Measurement & Evaluation efforts.  Other Arogya people involved in this project were Nandini Ganesh and Dr. Nalini Saligram.
Additional forthcoming publications:
Abstracts based on Arogya program data have been accepted for publication in the
International Journal of Noncommunicable Diseases
(Sep 2020). One is based on promising effectiveness data from our mDiabetes Aravind project, supported by The Hans Foundation/Rural India Supporting Trust.
Another was submitted by Stanford's CARE and is based on Arogya's school health data.