By Shashi Ohri, Event Chair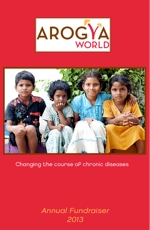 Arogya World held a successful fundraiser event in Chicago on October 11 at the fun and interesting Golden Triangle, an Asian artifacts and antiques shop. One hundred and twenty five people, many of them Indian Americans, enjoyed sipping champagne and mango martinis on the veranda, while browsing through the many artifacts. There was tremendous buzz and excitement in the room, and we were pleased that the new Consul General of India, Dr. Ausaf Sayeed and Mrs. Sayeed graced the occasion with their presence.
The event promoted something at the core of Arogya World's work  – that healthy eating is an important way to fight diabetes.  Arogya World is deeply grateful to chef Josh Katt from CJK Foods and chef Sanjeev Pandey from The Indian Harvest, who prepared and donated several healthy appetizers.  Nalini Saligram, who founded Arogya World three and a half years ago, introduced the organization to the Chicago community, saying "it is our generation's responsibility to fix NCDs, (non-communicable diseases)," and recounted all the ongoing work and progress made by Arogya World to fight these serious diseases.
Arogya World is delighted by the enthusiastic response of our wonderful guests and corporate contributors, and grateful to all of our 2013 donors.