by Dr Meghana Pasi, Arogya World Nutritionist
Nearly 50 companies participated in iNFHRA's first Tri-City Conference Series, "CAFE CONNECT, Cafeteria – The New Brand Image of Your Organization."
The conference brought the leading cafeteria heads from the Corporate Sector who presented on the Design, Service and Technology that goes beyond building and maintaining a Cafeteria that boosts employee morale, productivity and collaboration. It was held at Hotel Lalit Ashok, Bengaluru on 8th November. Heads of various facilities and projects attended this event.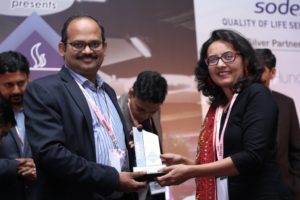 I represented ArogyaWorld as a speaker in the 3rd Plenary session on "Thought for Food – Office Cafe's Key Role in Employee Productivity". I offered my views as a Nutrition consultant, how healthy eating and a balanced diet can improve the employee productivity and reduce absenteeism. I talked about MyThali as the first every nutrition icon designed taking the NIN guidelines as the basis of nutrition requirements for the Indians. The speakers on my panel as well as the audience agreed on the importance of having us guiding them in their cafeterias on how to plan their meals and how to make their menus healthier at the same time interesting.
Overall, it was a very enriching experience.