Unpacking COVID-Related Issues for Concerned Global Citizens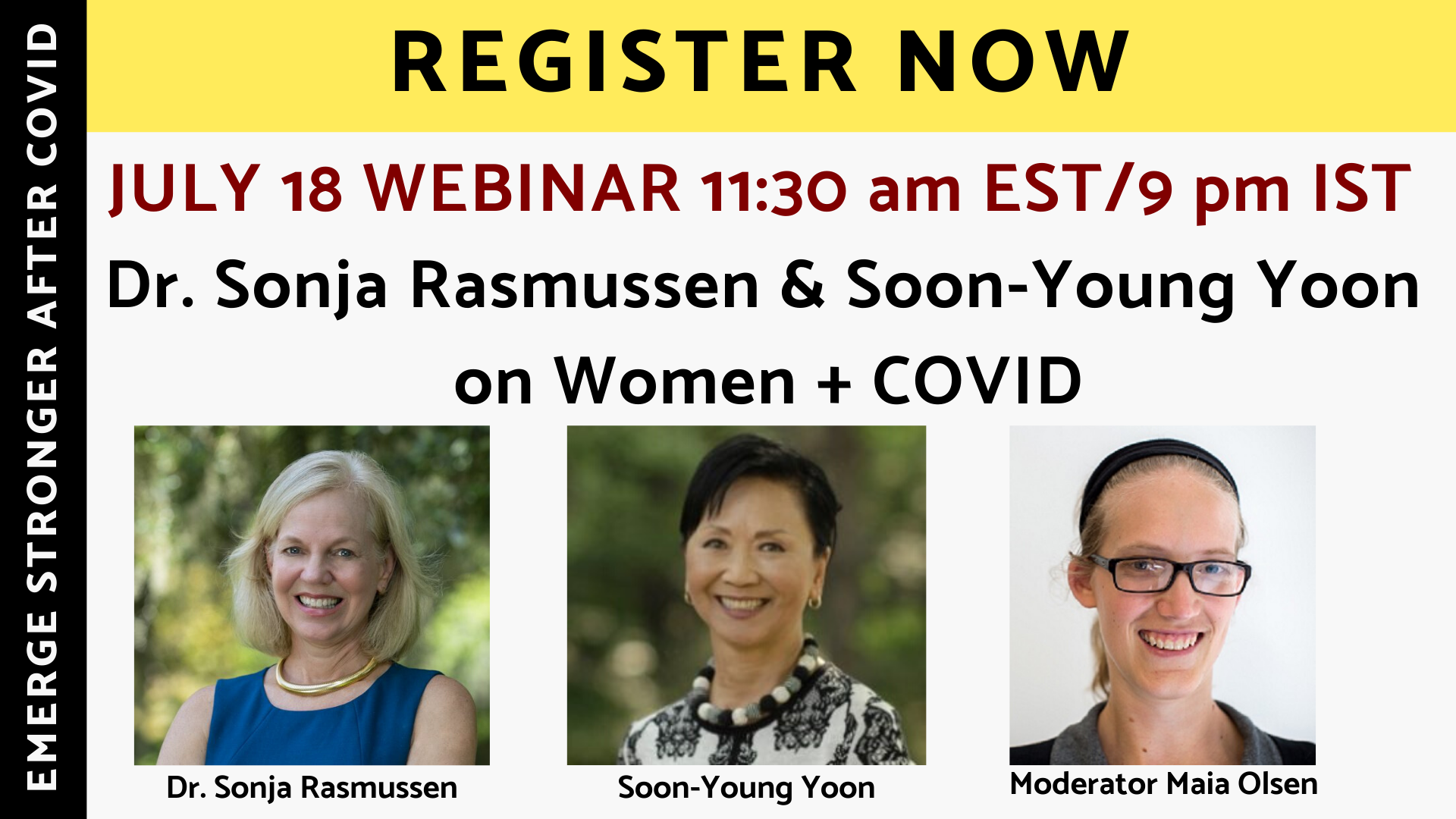 When you register for our webinars, you receive an invitation link and will also receive a link to the recording after the meeting which you can watch at anytime!
Register now for our July 18 webinar on Women + COVID!In Arogya World's continuing series –Emerge Stronger from COVID – join Dr. Sonja Rasmussen, infectious diseases and public health expert from the University of Florida, and Soon-Young Yoon, Chair of the Board of Women's Environment and Development Organization (WEDO) in what promises to be a spirited discussion. The session will be moderated by Maia Olsen from Partners in Health. REGISTER HERE FOR THIS WEBINAR
They will cover many important topics including the impact of COVID on women's lives, on women as healthcare providers, the issue of unpaid care, COVID's effect on women versus men, on pregnancy, as well as poverty, domestic violence, and the women's movement. There will also be time for audience Q&A.

Rasmussen is former head of pandemic preparedness at the CDC, and Yoon is also UN representative for the International Alliance of Women. Olsen is the Former Co-Chair of the Task Force on Women & NCDs, of which Arogya World is a member. Register for this webinar now.
Previous Webinars:
Renowned expert Dr. Venkat Narayan from

Arogya

partner Emory University discussed different aspects of diabetes and COVID-19, including why diabetes puts people at higher risk, how diabetics can better protect themselves during COVID, and more.
May is Mental Health Month. We hosted a webinar focused on COVID-19's Mental Health Fallout, with Garen Staglin, Founder, One Mind and

Arogya

partner One Mind at Work. Staglin is a dynamic leader mobilizing CEOs in the US and around the

world

to tackle mental health at work.
Later in May, celebrated former WeightWatchers chef Ryan Hutmacher highlighted culinary skills to make meals more healthy, including ways to reduce salt, accompanied by a live cooking demo. He also shared a delicious recipe.