Seven pioneering companies track workplace health metrics covering more than 400,000 employees addressing chronic disease among India's workforce
November 9, 2016, NEW DELHI, India – Arogya World is proud to announce that seven pioneering companies in India are being recognized as the first Platinum Healthy Workplaces for tracking workplace health metrics. This is the first year of Arogya World's quantitative workplace health metrics effort, and these awards represent the highest level of the non-profit's ongoing Healthy Workplace program.
The 2016 Platinum Awardees include the following companies:
Reliance Industries Limited
Reliance Industries Limited – Hoshiarpur Manufacturing Division
Wipro Limited
Reliance Infrastructure – Mumbai Transmission Business
SREI Infrastructure Finance Ltd.
Aditya Birla Fashion & Retail Limited (Unit: Madura Clothing)
Johnson & Johnson Private Limited, India
In addition, three Platinum applicants were recognized with certificates of merit:
MTR Foods Pvt. Ltd.
Tata Chemicals Limited
Bharat Petroleum Corporation Ltd., Mumbai Refinery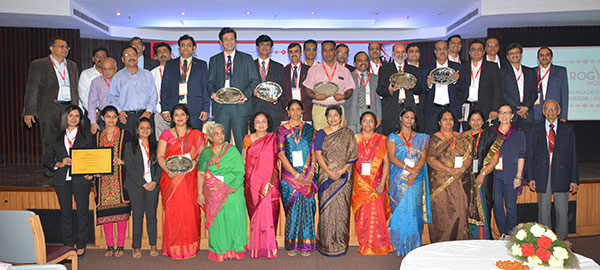 Congratulating all the Platinum Healthy Workplaces, Dr Geeta Bharadwaj, head of Healthy Workplace program, Arogya World India Trust, said, "We are so pleased these pioneering companies responded to our challenge, painstakingly tracked health metrics in their workplaces, and sent us the data requested. By initiating a culture of metrics, all these companies have made a great start. We thank them for their trust in us and commend them for their remarkable commitment to improving the health of their employees and communities."
Arogya World worked with Dr Ilene Klein, a workplace health expert, and her collaborators, Dr Sharon Frazee and Dr Mark Cullen, on the development of the questionnaires and data analysis.
"The data from the first batch of Platinum applicants in India are indeed impressive," said Dr Ilene Klein. "My colleagues and I found it deeply satisfying to analyze the data and unearth the stories within. We are confident this significant initiative can not only provide meaningful assessment of the business benefits from workplace health investments, in the months and years ahead, but also further the mission of Arogya World to reduce the burden of non-communicable diseases in India."
Key Metrics
Across the seven Platinum companies, ranging in size from 251 – 258,938 employees (totaling nearly 420,000 employees), evidence of health improvement was seen over the last three years:
tobacco use decreased (ranging from 0.2% to 15%). And collectively, in the Platinum companies, nearly 25,000 people quit using tobacco.
alcohol use also reduced, with maximum reduction of 6% noted in one company. Nearly 9,000 reduced alcohol use.
an increase in exercise was evident. In one company, an impressive 55% increase was logged.   More than 53,000 people (about 1 in 8 employees) increased exercise.
employees lost weight in most of these companies – a maximum of 6% was reported in 1 company. A total of 5000 people lost weight across the Platinum companies.
Tobacco use, alcohol misuse, physical inactivity, and unhealthy diets have been shown to cause non-communicable diseases (NCDs)– cardiovascular disease, diabetes, chronic lung disease, and certain cancers that account for more than 60% of premature deaths globally, many before the age of 60 – and are associated with significant human cost and implications for a company's bottom line.
"Platinum award applicants demonstrated not only a depth of understanding for the benefit of a healthy workforce, but also sensitivity to the needs of their unique population and work culture," said Dr. Sharon Frazee, a recognized researcher with expertise in health outcomes research. "The health and wellness programs for their workforce, their families, and within their communities are innovative and demonstrate very promising results."
Arogya World assembled recognized global experts – Dr Ray Fabius, Wolf Kirsten, Eliot Davila and Dr. Carol Wildhagen – as part of a Platinum Advisory Committee to help with data interpretation. Three Arogya World team members were actively involved in this work –Dr. Geeta Bharadwaj, Usha Chander and Dr. Nalini Saligram. Support for the Platinum project, in this, the program's first year, was provided by the Cigna Foundation.
Arogya World celebrated the remarkable achievements of the new Platinum winners at its Healthy Workplace conference and award ceremony today in Delhi (see agenda). Arogya World counts 79 companies spanning approximately 2 million employees as Healthy Workplaces.  The 2016 Platinum Healthy Workplace awards were given by Dr Nikhil Tandon, Padma Shree Awardee, Professor and Head, Department of Endocrinology and Metabolism, All India Institute of Medical Sciences, who delivered the keynote address.
Platinum Award Methodology – Arogya World's Bronze, Silver, Gold Healthy Workplaces are assessed on a qualitative basis for their adherence to a set of criteria with a formal site visit Assessment. The Gold level Healthy Workplace achievement is a necessary pre-requisite for companies to be invited by Arogya World to participate in the Platinum exercise, a quantitative health metrics effort.
The invitation-only Platinum effort scores for the company's leadership and commitment to workplace health, and asks for data and metrics on employee engagement and satisfaction, turnover, etc. The program also scores for participation and outcomes from workplace health programs including NCD prevention programs, mental health programs and community health programs. Costs where applicable and year-on-year trends are also requested. These criteria distinguish Arogya World's Platinum Award as a visionary, leading and comprehensive assessment of the important roles that companies in India are playing to improve the health of their employees and their communities.
In all Platinum companies, encouragingly, a clear strategic focus on employee health was evident. Companies reported they shared information on employee health in annual reports and/or to their board. Good examples of tobacco cessation and healthy living programs, mental health programs and community health efforts were reported. Three of the Platinum applicants demonstrated low and/or declining voluntary turnover rates. They also all clearly defined productivity and how they would measure it. All applicants will receive a detailed report on what they could do to improve their productivity going forward.
A global health non-profit organization, Arogya World (www.arogyaworld.org) works hard to prevent NCDs – diseases like diabetes, heart disease, cancer and chronic lung diseases – through health education and lifestyle change. Arogya World targets workplaces for chronic disease prevention because work is where so many people spend a large part of their day.