Gearing Up to Mark UN Review on NCDs
In just a few weeks, the much-anticipated three-year review on non-communicable diseases (NCDs) is taking place at the United Nations in New York. As the world takes stock of the progress made since the historic UN Political Declaration  on NCDs was issued in 2011, we at Arogya World are also taking stock of our own progress. We believe we have made great strides but are eager to do more to make the impact we know we can. One example of our approach is our 10,000 women's survey on NCDs.
Though NCDs are the #1 of killer of women, data on women's views of NCDs are scarce. To fill this gap, we set out to capture the voices of 10,000 women from around the world on the impact that NCDs have on their lives, and want to use these data to inspire government action to help women and their families lead healthier lives.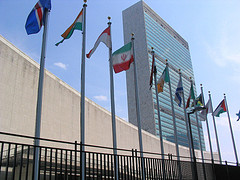 We are marking the upcoming U.N. Review on NCDs alongside our key partners with a side event at the UN on Friday, July 11 from 1:00-2.30 p.m. During this panel discussion, Arogya World will present the results of our recently completed 10-country, 10,000 women survey on the impact of NCDs. We will gather comments, perspectives, and reactions to this important research from multiple stakeholders including U.N. agencies, governments, and civil society organizations. At the end of the session, we will have a better understanding of what the survey tells us and its implications for different stakeholders.
Stay tuned for more on how Arogya World and its many partners are using women's voices to make change.