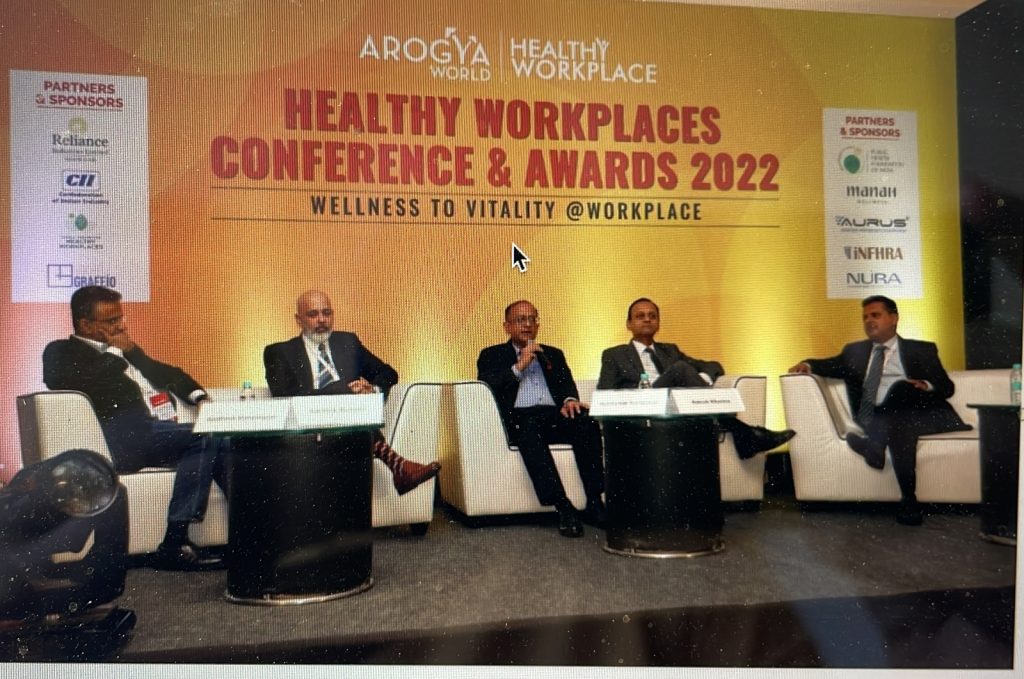 On
December 2
, at the annual
Arogya World Healthy Workplace Conference and Awards, 34 companies
were recognized for championing workplace health. The criteria for evaluation included the mental and physical well-being of employees while focusing on healthy lifestyles. 5 of these companies were acknowledged as
Platinum Healthy Workplaces
 and recognized for demonstrating a data-driven culture of health, namely:
Indian Oil
Tata Consultancy Services
Larsen & Toubro
Manipal Cigna
Haleon
The 2022 Healthy Workplace companies are
Tata Motors
State Bank of India
Apraava India Private Limited (Jhajjar Power)
CGI Inc
HCL Technologies Limited
Sterlite Copper
ESL Steel Ltd
Hindustan Zinc Limited
Sesa Goa
Talwandi Sabo Power Limited
Ferro Alloys Corporation Limited
Bharat Aluminium Company Limited
Cairn Oil & Gas, Vedanta Limited
Lanjigarh, Vedanta Limited – Jharsuguda
Vedanta Group
Sony Pictures Network India Pvt Ltd
Mercedes- Benz Research and Development India Private Limited
Chhatrapati Shivaji Maharaj International Airport
Quess Corp Limited
GarbhaGudi IVF Centre
Bagmane Developers Private Limited
Fresenius Kabi India
RMZ Corp-CBRE
Adecco
Mikro Grafeio
Avian WE
LV Prasad Eye Institute
Coffee Board of India
As of date, Arogya World has recognized a total of 186 companies as Healthy Workplaces, spanning over 5.83 million employees.
Highlighting the Conference theme "
From Wellness to Vitality"
. Keynote Speaker, 
Sunita Rebecca Cherian
, Chief Culture Officer Wipro said, "Eat right, exercise, and proper sleep are critical to ensure mental and physical health."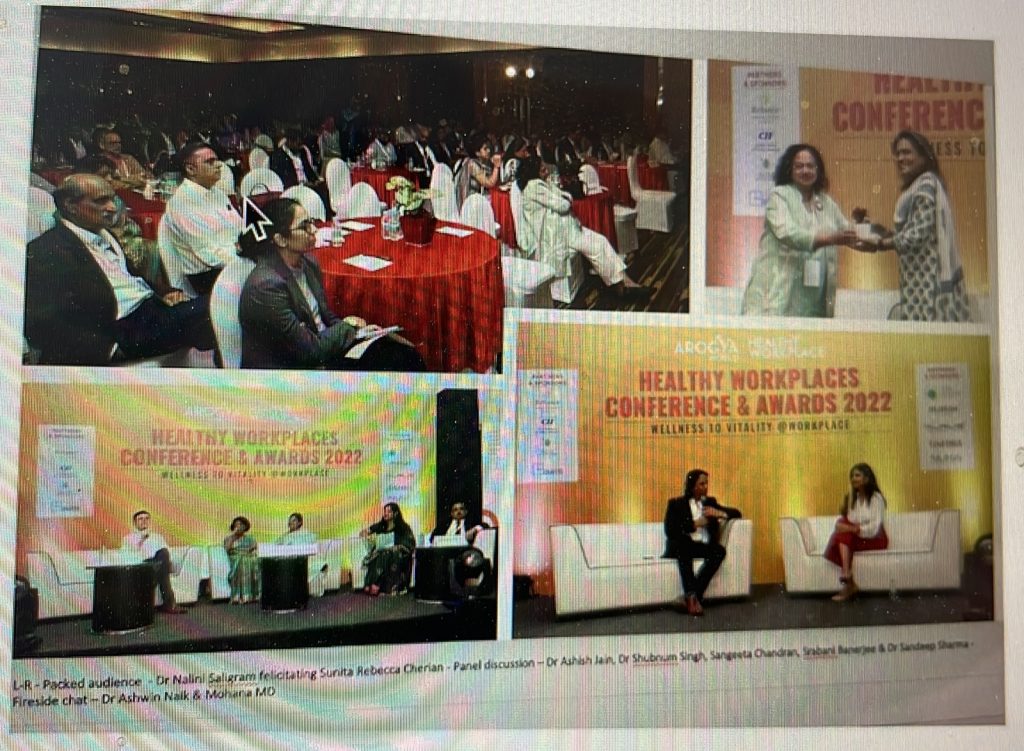 The CXO session was truly insightful, engaging, and invigorating. Moderated by Santhosh Mahalingam (CEO Mikro Grafeio), the discussion between Nitin Dave (CEO Quess Staffing), Ramkumar Narayanan (MD VMware), Sarthak Ranade (MD, Janssen India), Ashish Khanna (CEO-Tata Power) covered people, processes, health, and well-being of employees. They reinforced that health was a boardroom discussion topic and also a business imperative today. CXOs discussed the "new normal" in which the "war for talent" had intensified and the only way to ensure that your "employer brand" gets a distinct identity in the minds of "current and prospective employees" is through "holistic health & well-being".
The fireside chat between Dr. Ashwin Naik, Founder Manah Wellness, and Mohana MD, Chief People Officer Better Place was well received. They explored how even the definition of wellness at work has changed over the years.
Awards were given to 2022 Healthy Workplaces in the afternoon. It was clear that once again the Healthy Workplaces conference did much to advance the dialogue on workplace health in India. The Arogya team involved included Srabani Banerjee, Usha Chander, Nandan Bhatia, Anuradha Yadav, Manikanta Kumar & Kriti Pradhan.
Please click here for
If you want to become an Arogya World Healthy Workplace and join the Healthy Workplace Community of 186 companies, 
please share your details
. Alternatively, you can write to us at 
connect.hwp@arogyaworld.org
. We will also keep you updated about our tools, programs, global practices, and upcoming events. You can also reach out to
Srabani Banerjee
Head – Healthy Workplaces
Arogya World
+91 9313166760
Srabani@arogyaworld.org
Manikanta Kumar
Manager – Healthy Workplaces
Arogya World
+91 9063286479
manikanta@arogyaworld.org