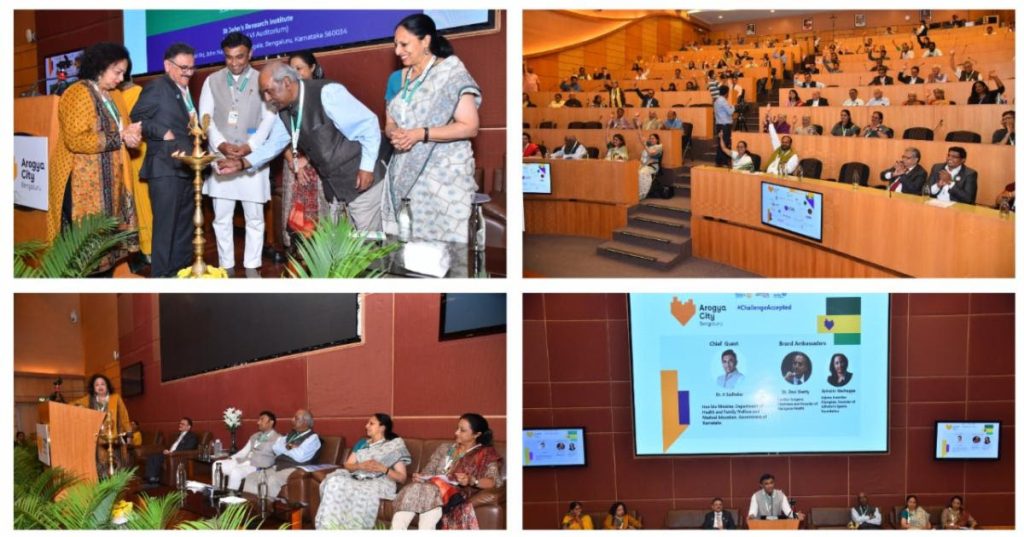 On
28 November,
the 
Arogya

 City Summit in Bengaluru was inaugurated by Dr. K Sudhakar, Hon'ble Minister for Health, Family Welfare and Medical Education, Government of Karnataka,
 to mark the start of a movement to reduce the growth of Non-Communicable Diseases (NCDs) in the city. We are extremely proud and excited about the commitments from 21 pledge makers and extensive support from the Government of Karnataka, Partners, and media.
Speaking at the 
Arogya
 City Summit, Dr. K Sudhakar, Hon'ble Minister for Health, Family Welfare and Medical Education, Government of Karnataka said, "The 
Arogya
 City initiative has come at the appropriate time and I am confident the movement will aid us in our fight against the problem of NCDs. The Government of Karnataka will extend every support to the 
Arogya
 City initiative to transform Bengaluru into India's First 
Arogya
 City. The Health Department is all set to start screening all those aged above 30 years for diabetes at the soon-to-be-launched Namma Clinics."
NCDs are a challenge in Bengaluru no doubt. 
Rotary 3190, 

Arogya

 

World

, and BPAC laid the foundation
quietly and with determination accepted the challenge. The 3 organizations had a presence at the Summit as did
Brand Ambassadors – Dr. Devi Shetty
, noted cardiac surgeon and Chairman & Founder of Narayana Health, as well as 
Ashwini Nachappa
, Arjuna Awardee and Former Olympian and 
Mr. K Jairaj
, the chair of the 
Arogya
 City Advisory Committee.
The 
Arogya
 City campaign honors and celebrates the pioneering Pledgemakers who form a high-impact group, Champions20 (C20) for their commitment to this noble cause. They cover the following themes:
Screening for NCDs (AI Health Highway, Biocon Foundation, Rotary District 3190, Social Alpha, RxDx)
NCD Prevention and Control (

Arogya

 

World

, Clinikk, Kempegowda International Airport, Swasti Health Catalyst, Wipro Cares)
Advancing Mental Health (Mpower an initiative of Aditya Birla Education Trust, The Lalit Ashok)
Increasing Physical Activity (Jayanagar Jaguars, Nexus Shantiniketan)
Advancing Health of the Elderly (LVBL, Senior Ji, and Vayah Vikas)
Youth Outreach (Agastya International Foundation, AstraZeneca Pharma India Limited, mLAC, and Mount Carmel College)
Spurred by the campaign's tagline, #ChallengeAccepted, this group of committed pledgemakers will reach > 500,000 citizens and help them tangibly improve their health.
Arogya
 City started as a vision – to bring together Bengaluru's Government, Corporates, Start-Ups, Educational Institutions, and Civil Society; galvanize everyone into action, and collaborate to improve the health and well-being of the people, with meaningful efforts to address NCD prevention and control, and mental health, leveraging technology. The Nov 28 summit had a palpable buzz, spurred people into action, and generated a ton of media coverage. The 
Arogya
 team involved includes Nalini Saligram, Meeta Walvalkar, and Archana Raaj.
A sense of momentum for all of us and the fact that the response from stakeholders and the media has been overwhelmingly positive.