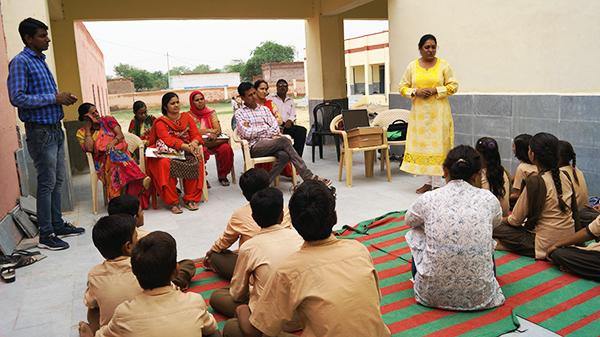 Arogya's Nandini Ganesh conducts training for Ashoka schools
We are proud to be partnering with Ashoka, the largest network of social entrepreneurs worldwide, on their Nourishing Schools program. Designed by Ashoka India's Health and Nutrition Initiative in partnership with various stakeholders, the Nourishing Schools program aims to develop young changemakers between 9-14 years old who can take charge of their own nutrition and that of their communities. The program uses a toolkit to engage children and communities in activities and games that help them develop solutions to address malnutrition. Arogya World's Healthy Schools program components have been integrated into the Ashoka toolkit and the two teams have worked hard to roll out the joint program so far, to 20,000 children in 20 schools in Assam, 20 schools in Maharashtra, 35 schools in Rajasthan, one school in Puducherry and 20 schools in Tamil Nadu. The collaboration is all set to continue in the future as well.
"With the rising rates of obesity in India, it was a priority for us to address this through our program," said Archana Sinha, Change Leader, Health and Nutrition Initiative, Ashoka. "We are privileged to partner with Arogya World, founded by Ashoka Fellow Nalini Saligram, with their expertise in the prevention of non-communicable diseases. Our teams are working together to help children take charge of improving their nutritional status."
"Through this collaboration, Arogya World, with all its expertise and experience on this topic, has provided great value addition and also support in training children on these components at schools," said Deepa Amarnath, Consultant, Ashoka India.
"I find great joy in teaching enthusiastic and eager school children about healthy eating and the importance of exercise using our compelling games and activities," said Nandini Ganesh, from Arogya World. "We have great hopes for this partnership–as Ashoka's Nourishing Schools program expands, they will educate more and more school children with our materials. That we are together helping more children become healthier, gives me great satisfaction."