Anupy Singla Bio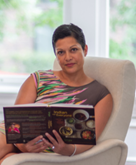 Anupy Singla 
Cookbook author and journalist Anupy Singla is the author of three books, The Indian Slow Cooker, Indian For Everyone, and Vegan Indian Cooking.
Born in India and raised outside of Philadelphia, Anupy grew up visiting her grandfather's childhood village in the heart of Punjab. She first learned to cook traditional, spicy Punjabi-style food from him. It was this passion that compelled her to leave daily reporting to teach her young girls how to appreciate good Indian food and blog about it on indianasapplepie.com – now also the name of her company.
Her books are among the top-selling Indian cookbooks in North America. In all, she successfully combines her knowledge of Indian cooking and her journalistic style to give you easy recipes that are at once authentic and healthy. Her approach is Indian food from an American point of view – the essence of Indian As Apple Pie.
Anupy is a former business reporter and has worked in print, television, and radio. Her last job was as the morning reporter for Chicago Tribune-owned CLTV. She has also reported for Bloomberg News and WGN-TV. Anupy's food-related work has appeared in the Chicago Tribune, the Chicago Sun-Times, the Wall Street Journal, and various other newspapers and magazines. She is a regular commentator on NPR, and teaches classes at Williams-Sonoma, Sur La Table, and Whole Foods Market. She has demonstrated her cooking skills on WGN-TV, WLS, and NBC10! Philly.
She and her growing food and housewares company, Indian As Apple Pie, have been featured in Food & Wine Magazine, Entrepreneur Magazine, Crain's Chicago, Kiwi Magazine, and she has appeared on television stations across the country and in Canada. Anupy was featured in the Smithsonian's Beyond Bollywood Exhibit, which showcases the impact of Indian-Americans on this country's history. She is a proud member of the prestigious Les Dames d'Escoffier.
Anupy lives in Chicago with her husband, their two girls, and their crazy dog Oliver.