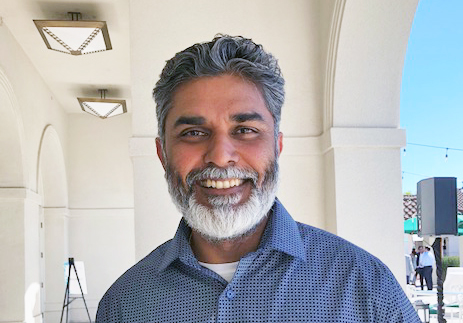 When we met Bala Kamallakharan, we were inspired by his data-driven approach to health, extraordinary determination, and persistence. We hope that others will learn from his story. 
When Bala Kamallakharan, an entrepreneur and venture capitalist living in Iceland, received a diagnosis of Type 2 Diabetes at age 42, he decided he wasn't going to rely on medications, but instead drastically change his lifestyle.
"I'm an investor and entrepreneur so I like new ideas and I did all the research and found that Type 2 Diabetes is a reversible condition. You don't have to live with it. If you are willing to work on it, you can fix it," he said. "So I went to work on that."
Bala started eating better and working out regularly-and was rewarded with a drop in blood sugar levels. "I used to run marathons, but for diabetics this isn't such a good idea because you start losing muscle after the first 2 hours-and you need muscle to store glucose," he said. "Once you understand the dynamics of how your body works, you can make changes. So, I decided to put on more muscle, which reversed other symptoms of diabetes, like lethargy."
As for diet, he learned he researched metabolic syndrome and experimented with food to see which ones activated his sensitivities and which didn't. "Sure enough, my blood sugar level immediately became normal," he said.
The third-and more controversial-change he made is regular exposure to ice cold water (easy to find in Iceland). "If you repeatedly do this, it changes the fat in your body to become more like a furnace, burning fat and calories but not muscle," he said. "Another benefit is that I sleep longer, and my resting heartrate has come down to 54, like an athlete's heart rate. I'm not suggesting that it works for everybody, but it works for me."
Bala is now taking what he's learned about his own case of diabetes to his work as a venture capitalist. "We're looking at how we can use technology to help people manage diabetes better," he said. His team has developed an app that can help people prevent blindness from diabetes, using a biomarker identification process that has been validated using 20,000 diabetics. The app is free to the public, available through Apple or Google Play. "It is important to get the bottom of the pyramid understanding the causes and effects of this disease and why this happens," he said. Bala strongly believes in prevention and treatment that focus on lifestyle changes first and foremost. "Just prescribing a pill is irresponsible if you ask me," he said.
"You can say I'm at war with diabetes and I'm going to go deeper and deeper," Bala said. His father passed away at a young age due to complications from diabetes. "I could have reversed his condition if I had known then what I know now," he said.