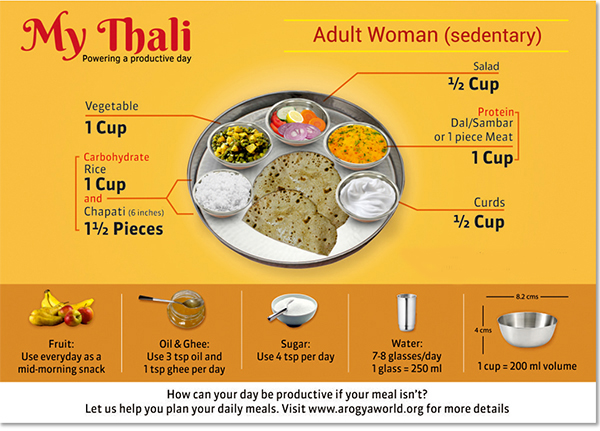 We are excited about the upcoming launch of Arogya World's MyThali, which shows what someone should eat–and in what quantities–at main meals. We just completed testing with more than 50 consumers of this new nutritional icon for Indian families. We developed MyThali first and foremost for urban, mostly sedentary Indian women. We want to empower them to steer their families towards healthy and energetic living.
We have been working on MyThali since 2015. At that time, with funding from the Cigna Foundation, Arogya World held a multi-stakeholder consultation workshop to gather input from several top nutritional experts. We incorporated India's National Institute of Nutrition guidelines as well as the U.S. Department of Agriculture's MyPlate approach to develop MyThali. We are especially grateful for the expert technical input of Dr. Kamala Krishnaswamy and Dr. Shubhada Kanani in this process.
A few months ago, Jayanthi Krishnamachary, a former information technology (IT) project management executive, joined us to head MyThali. This is what she had to say:
I was in the IT industry for a number of years, an industry that is largely sedentary. I noticed that my young colleagues got little or no exercise and were also eating unhealthy food. My family was into sports and healthy eating, so when I met Nalini and heard about MyThali, it struck a chord and I readily jumped into it.
India is on the cusp of many changes, with obesity quickly becoming an issue with urban children and adults. Indians tend to consume more carbohydrates than protein and other nutrients. India is a land of dichotomy. It faces the twin challenge of poor nutrition along with an alarming rise in obesity. I see great potential for MyThali to be the change agent for consumer behavior, making families more aware of how much they eat. I am very excited to be a part of this journey and looking forward to changing the lives of many Indians.
Initial design work on MyThali was done by Brandaid. MyThali will be launched at Arogya World's upcoming Healthy Workplace Conference and Award Event on November 9 in Bangalore. We are putting in place ambitious plans to reach and educate women all over India.